Hello everyone this is Wabbita and I am excited to tell you about this products that I received from Japan. They were sent by my wonderful friend who lives in Japan. These are the makeup brands that I always see on instagram and I was lucky and thankful that I got to received these wonderful makeup. These makeupJapanese makeup brands are new to me so if you guys wanted to now more about the products please click on the name brand below and it will take you on the direct website.
When you heard or see Japanese makeup the first thing you noticed is the beautiful packaging of the products. Also quality is very important not only when it comes to make makeup but basically everything like skincare, food etc. Just by looking you can tell that its good quality not cheap looking and of course the packaging is always beautiful you can tell that they took time and put little details when they make this product. And quality assurance in Japan is very important so most of items you see is perfect looking and they want to make sure that the costumer is satisfied from the moment you see them and from the moment you use the item. The moment I saw these makeup I am already satisfied from the beautiful packaging to when I used the products. In fact they are so beautiful that I don't even want to touch them, but for the sake of this blog I decided to swatched them and show you what is Japanese makeup looks like.
SUQQU DESIGNING COLOR EYES 04 (AYANADESHIKO)
This is my very first SUQQU quad eyeshadow palette. First of all lets look at the packaging, Its very simple yet elegant looking and loved that there is gold details on the palette and on the eyeshadow too. If you guys are familiar with Japanese makeup they don't carry a big large sized of eyeshadow palette. Compare to American brands or American eyeshadows, this one have a limited colors its only four color eyeshadows but I think this is better because you can actually use all the colors. Its actually good for people who are just starting to use eyeshadows. You won't get overwhelmed with the colors since there are only four of them. Compare to using a big eyeshadow palette most of the time you don't really use all the colors, in my opinion this is better and very compact you can put it in your purse. The colors of this palette have red, pink and rose gold color. Also they are all shimmery almost close to metallic finish but not overpowering in fact they are all wearable even a person who don't like shimmery eyeshadow will like this palette.The eyeshadows are more pigmented than I expected, thought that it will be just sheer and very light but I was wrong I was surprised by the pigmentation and good quality of the eyeshadows.They are soft and delicate to touch, also easy to glide and I loved the brush applicator that includes in the palette too. As you can on the picture below they swatched beautifully on arm and I did not use any primer on arm, Also this is swatched only one time.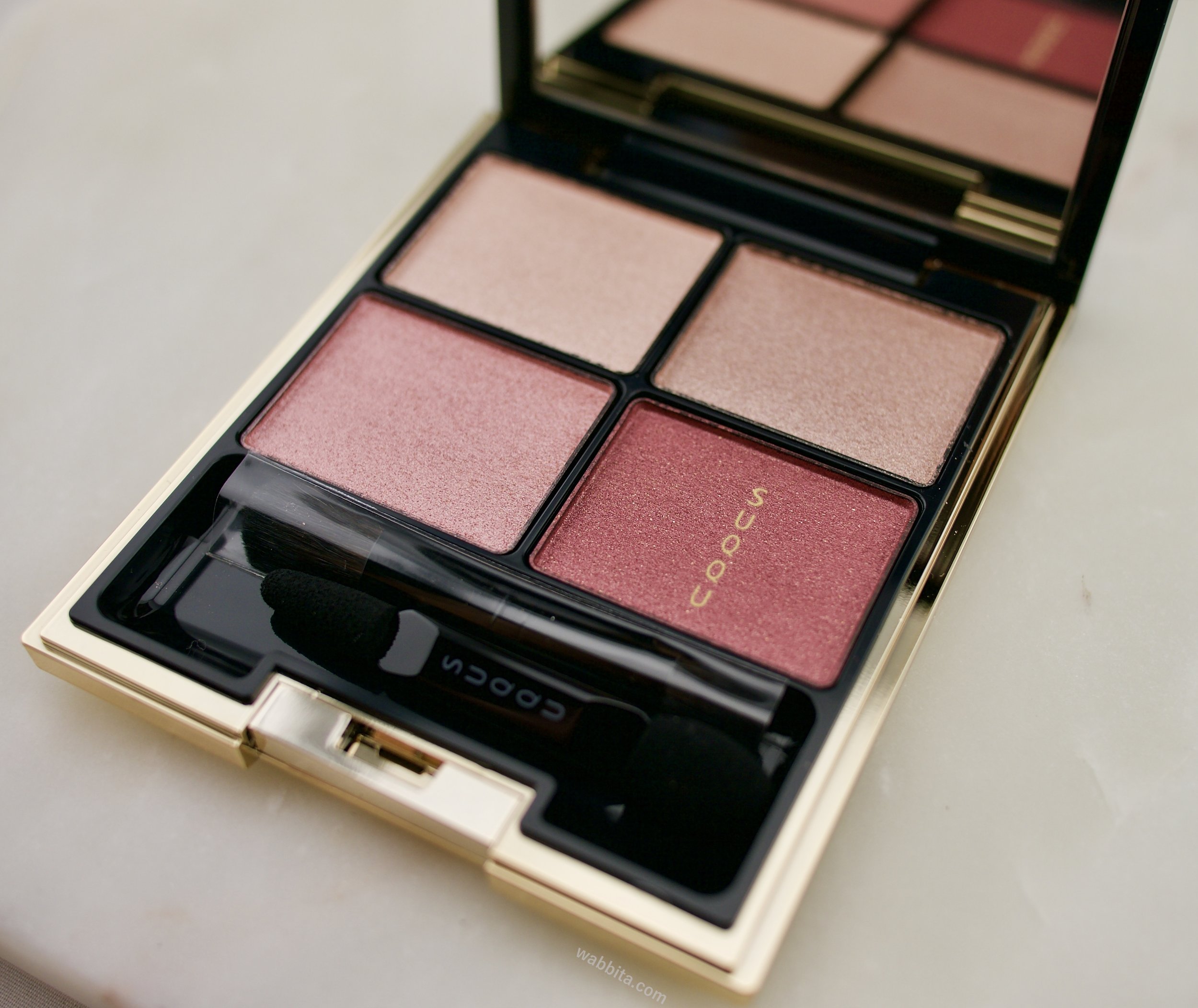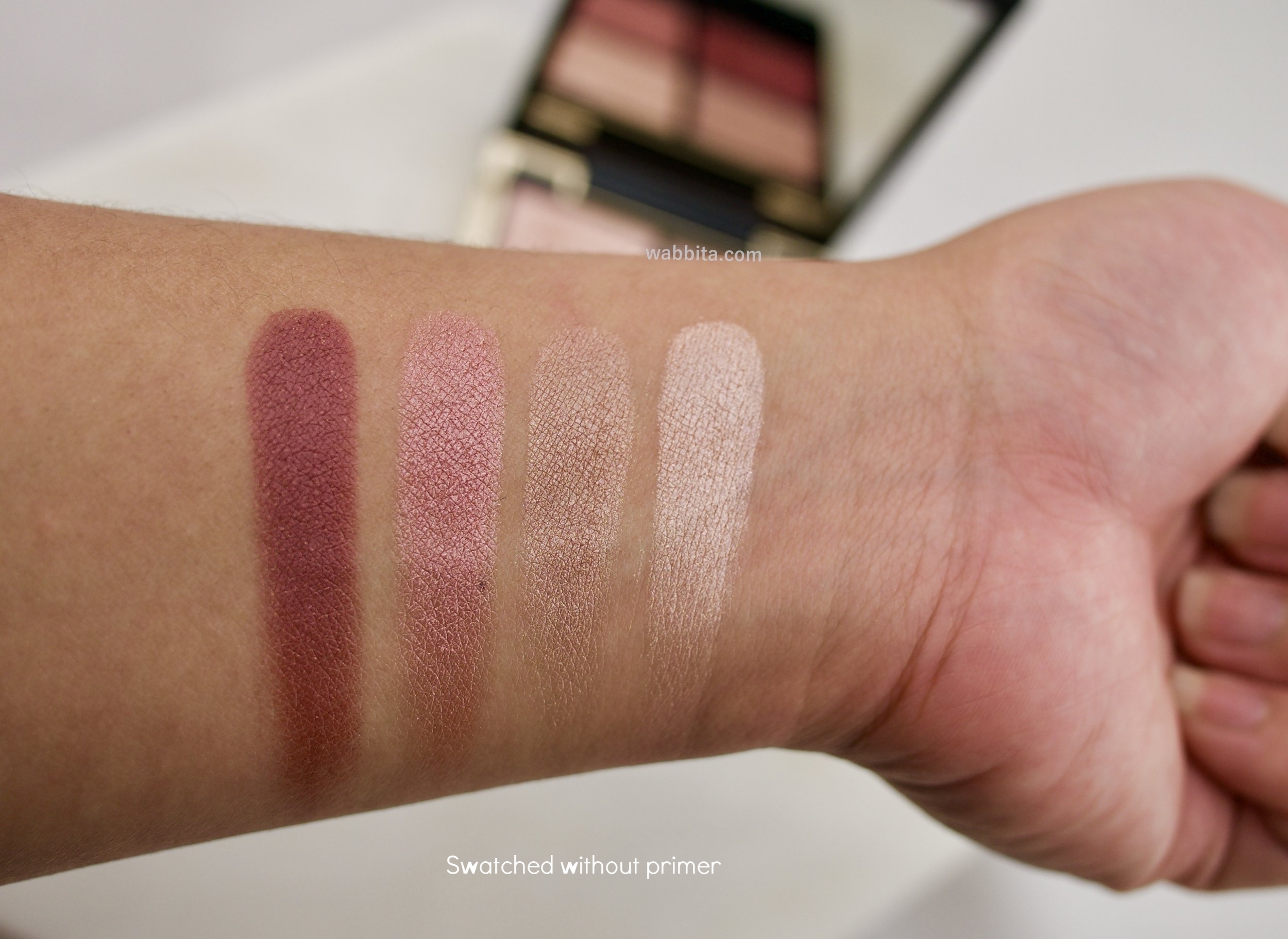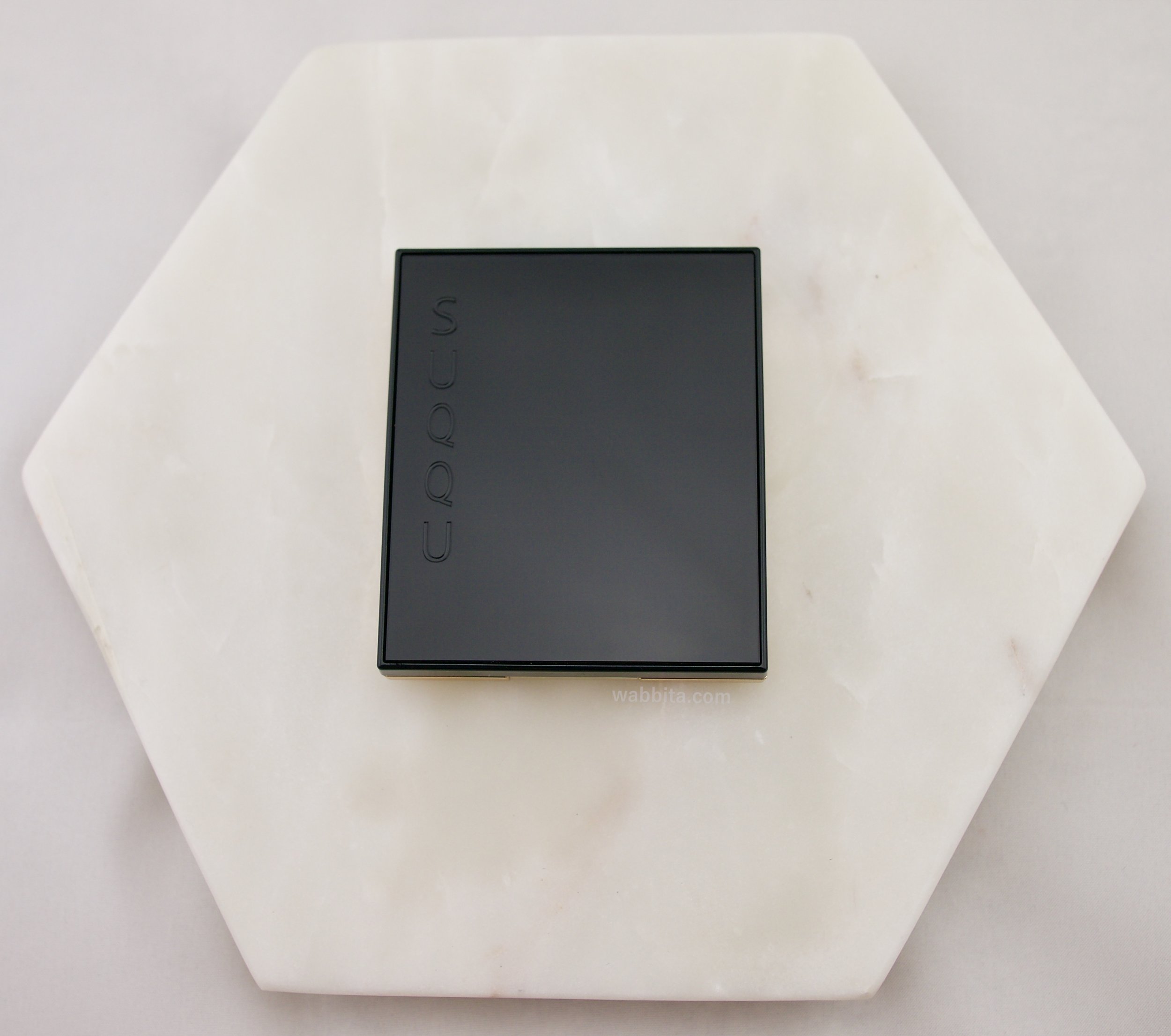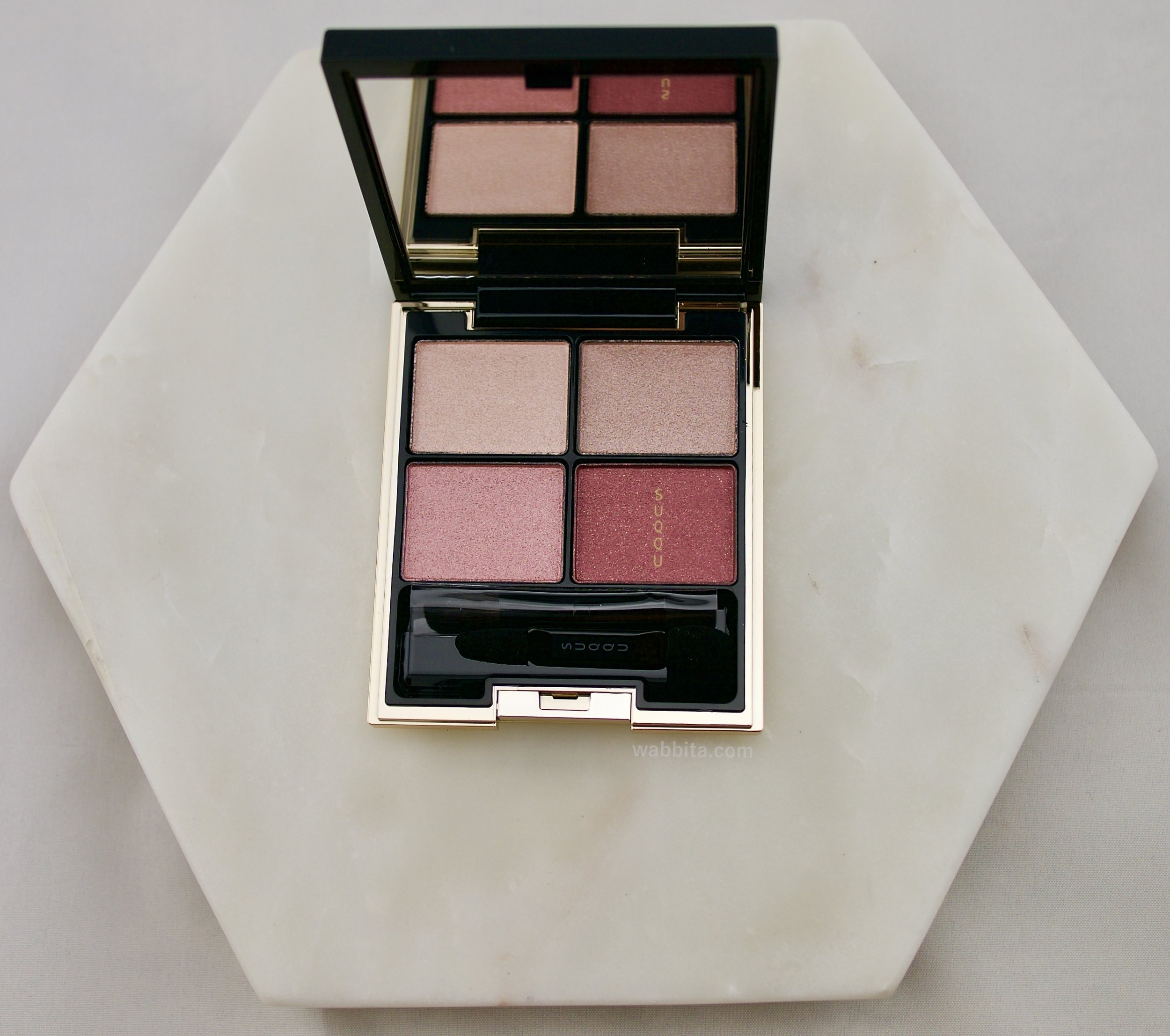 JILL STUART ROUGE MY DRESS 09 (RED HIGH HEELS)
The moment I saw this lipstick I was like OMG!!! I fell in love right away with the very detailed packaging, super elegant that it makes you feel like princess. Its the first time having a Jill Stuart makeup product. This is by far the most beautiful lipstick I have received in my life. Even the product inside of this lipstick is very detailed and carved like a shape of a crystal or diamond. Loved the color of this lipstick too. The consistency is really nice, creamy texture, glides smoothly and very opaque in color. Its moisturizing on the lips, this is not matte but has a sheen to it not drying on lips either. The color of this lipstick is a little bit on the orange type of red, a bit different that the usual red that I like which is the blue tone red but I like this one using this lipstick with the THREE LYRICAL LIP BLOOM O5 to make the gradient/ombre lip look and so far I loved the combination of the two lippies.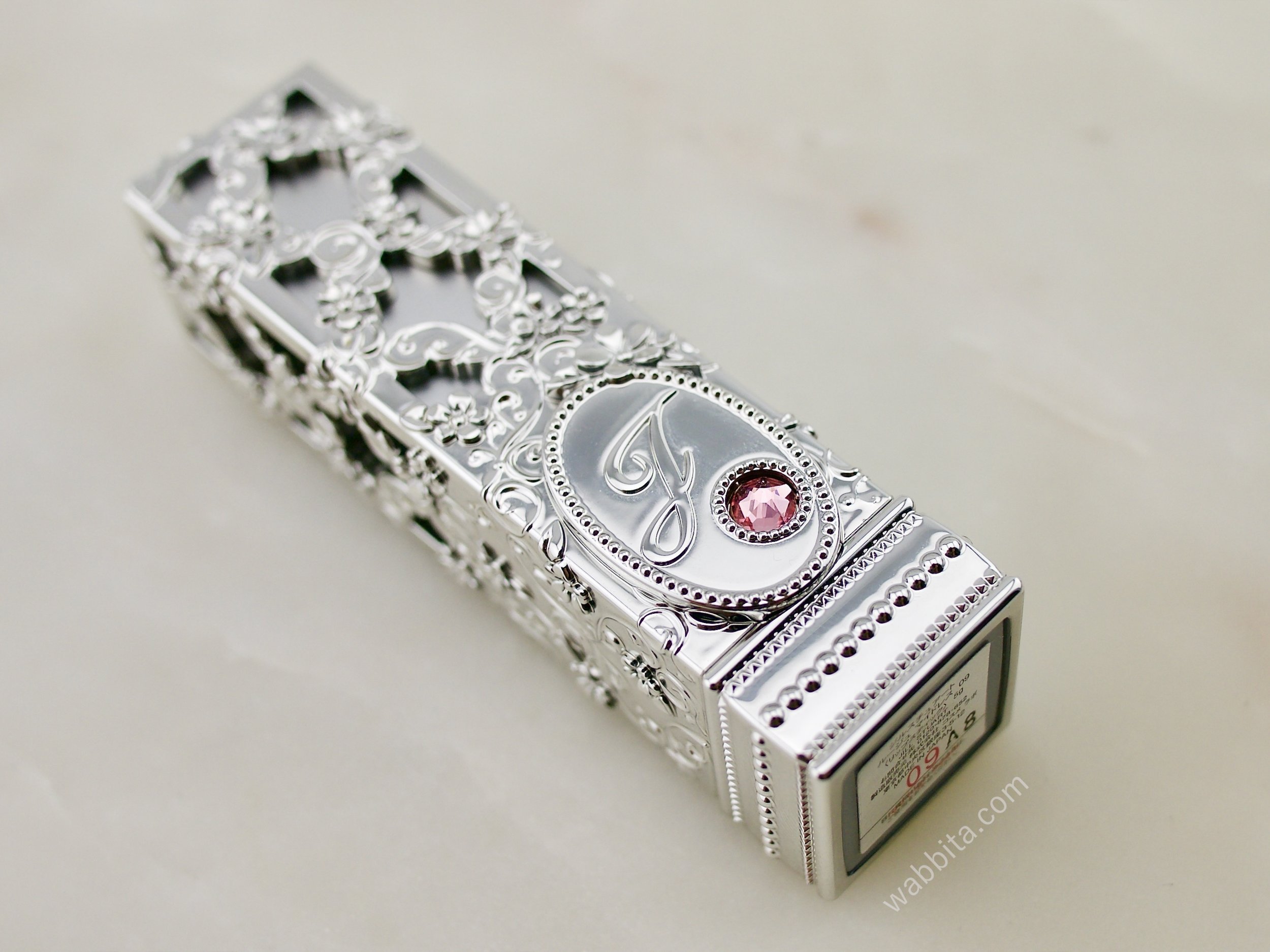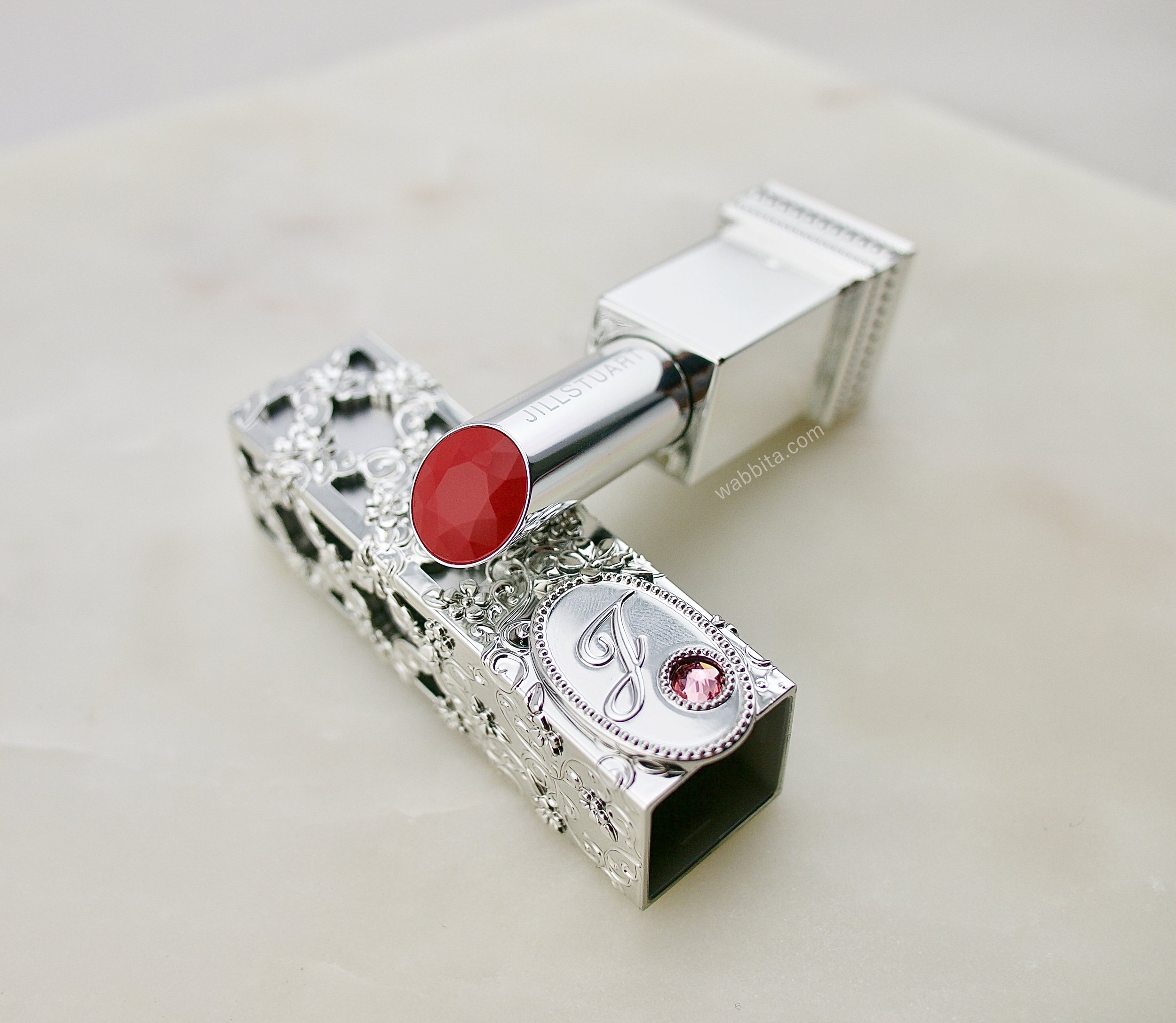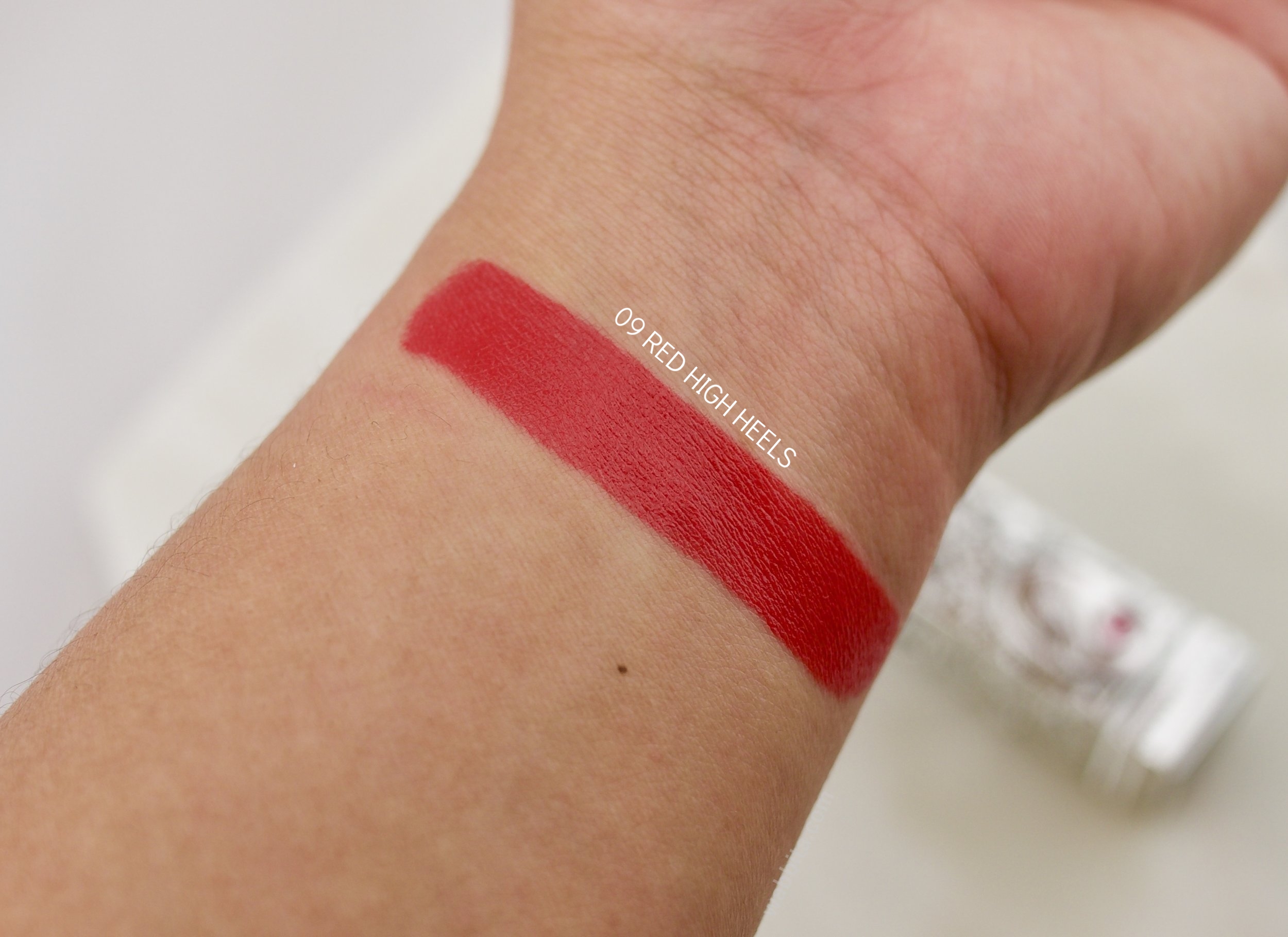 THREE LYRICAL LIP BLOOM O5 (VOICE ASCENDING)
This is also the first time I am trying a THREE cosmetics product and like I said earlier on the other two products I loved loved the packaging very sleek, simple yet elegant. Also the applicator of this one is a little different than the other liquid lipstick applicator. This one is more flat and pointy that usual applicator. Now on the website it says that this one is a "RAW MATTE TEXTURE" texture that is neither glossy nor dry becomes one with your own lips as time goes by. This is not really matte, not drying on the at all in fact it has a glossy texture. Although the color is not very opaque on my arm swatched they looked more opaque when you apply on the lips and its very moisturizing and not sticky at all with the texture or a lipgloss. The color is red but theres a hint of pink tone to it. You can use this as it is but I like to use it with the Jill Stuart lipstick to make a gradient/ombre lip look and loved the combination of the two lippies.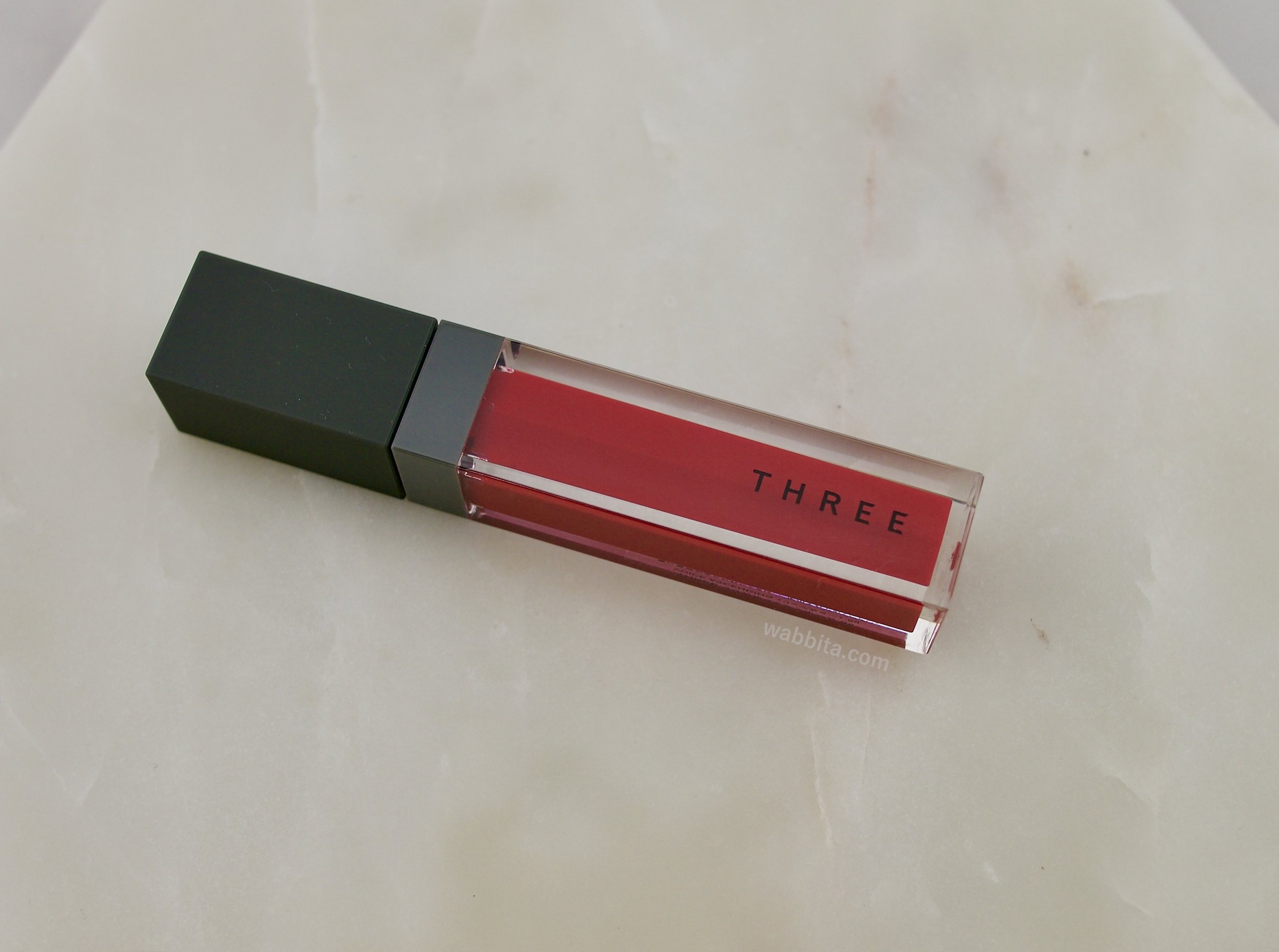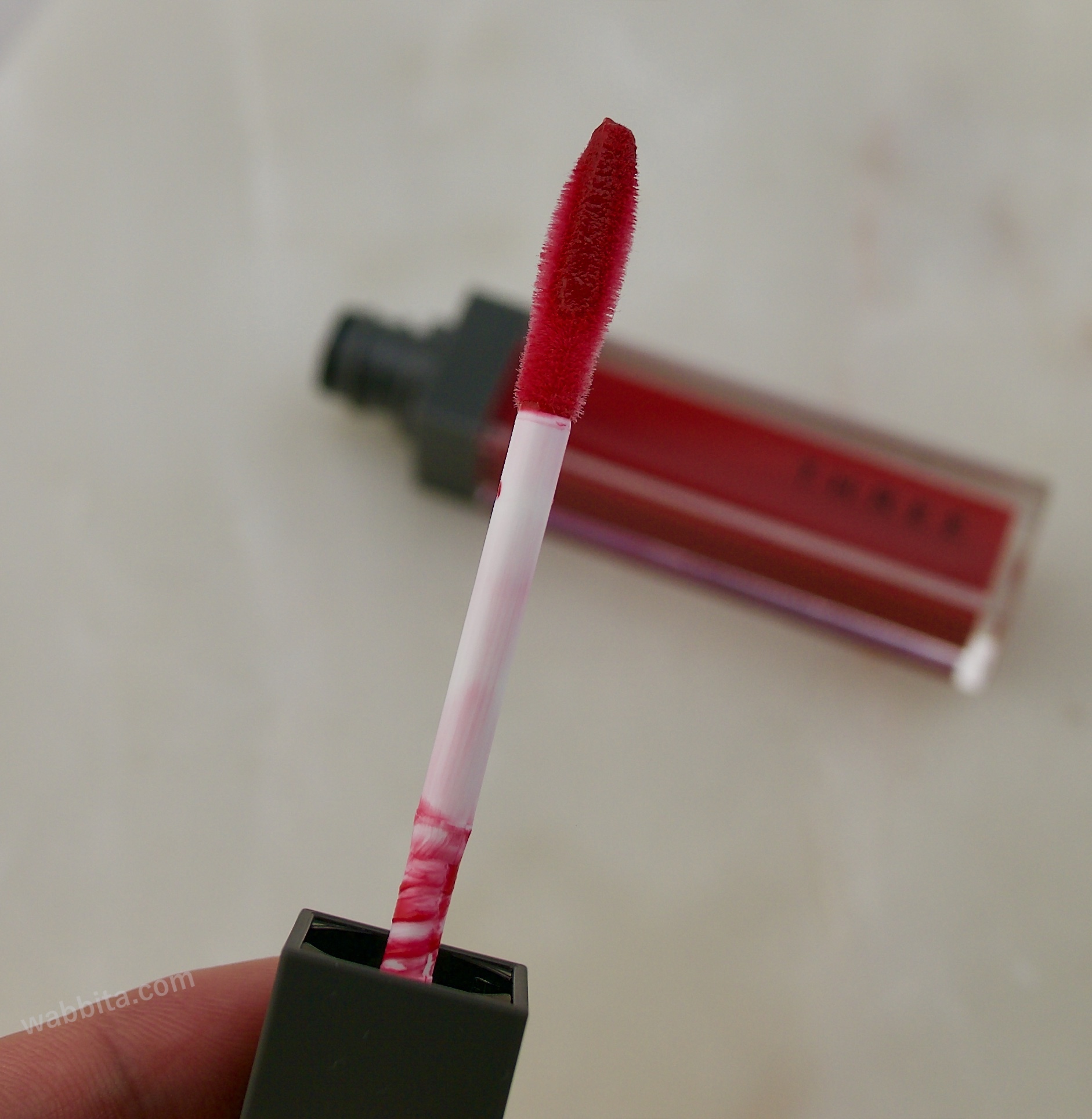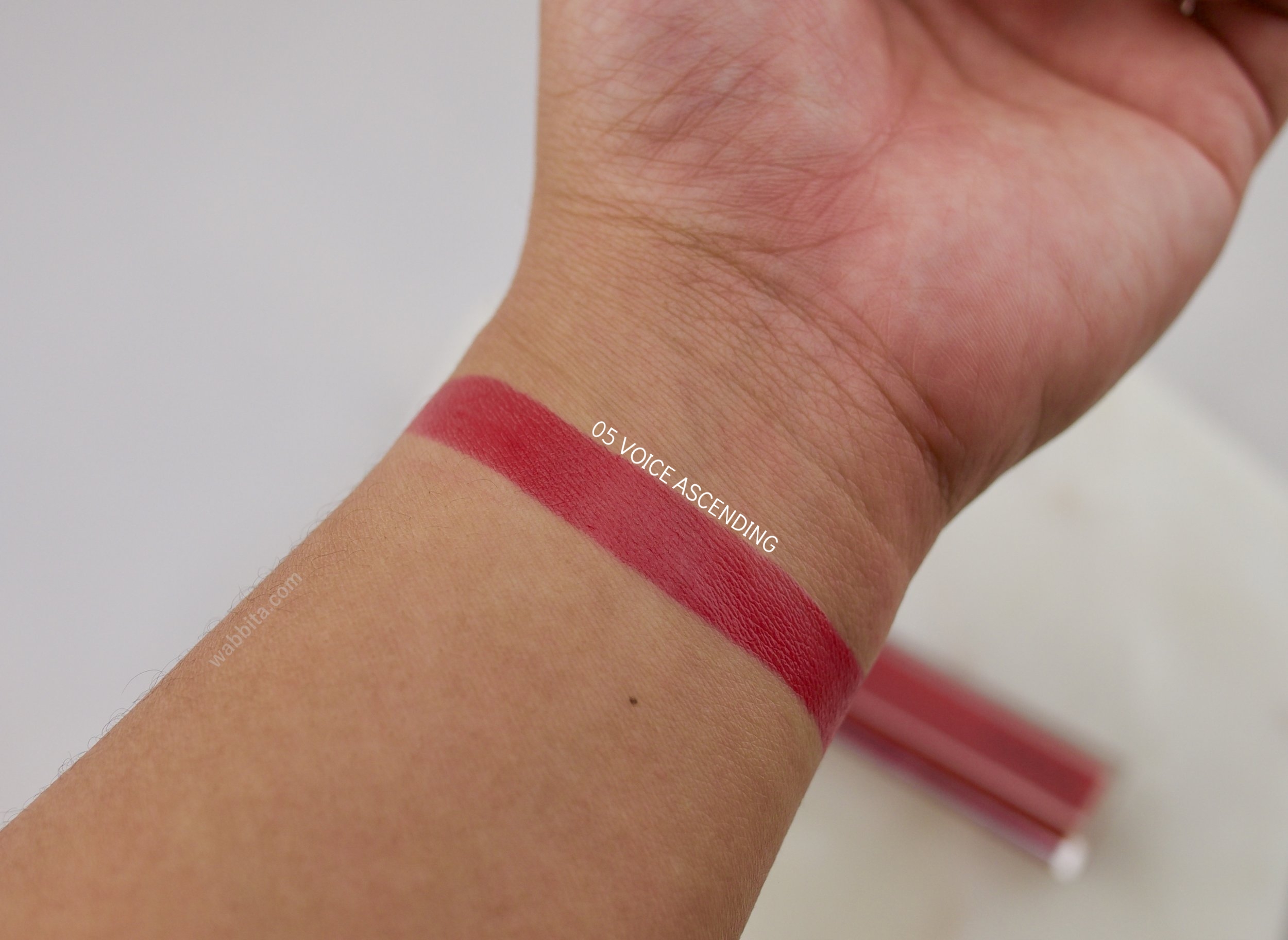 This is the makeup look I did using all the makeup products. Overall I loved all them. Loved the detailed packaging of the Jill Stuart lipstick loved the colors too. Also loved the texture of the Three cosmetics lip and last but not he least the SUQQU quad eyeshadow loved the colors of the eyeshadow and also I liked the applicator that includes in the palette.Thanks to my wonderful friend who sent me these amazing products and will use it continuously .
Hope you guys enjoyed this blog post and find it helpful. Let me now if you like Japanese makeup or if you have a favorite Japanese makeup brand, please comment below and I would to know what you brand you like. Thank you so much for stopping by. Have a wonderful day/night wherever you are in the part go the world.
Wabbita
Please follow me on Social Media