Hello everyone! Its Wabbita, I am back with a new blog post. My first impressions of this new product from The Yeon brand. If you are following me on social media. I was one of the lucky winners who got the hands of this new product from The Yeon VITA7 AHA?/BHA ENERGY PEELING GEL that I won during their giveaway. About the brand, The Yeon Is a Korean brand and they have a lot of products from skincare, sheet mask, body care, makeup and many more. You can purchased They Yeon products through online or they also have an actual store in different states I believe. I went to their store location in LA and purchased the ROSY LIPS products.
SHOP: The YEON
INSTAGRAM: @theyeon_usa
I used some other products from The Yeon before and loved their sheet mask also their cute Rosy Lips. My The Yeon Sheet mask review below!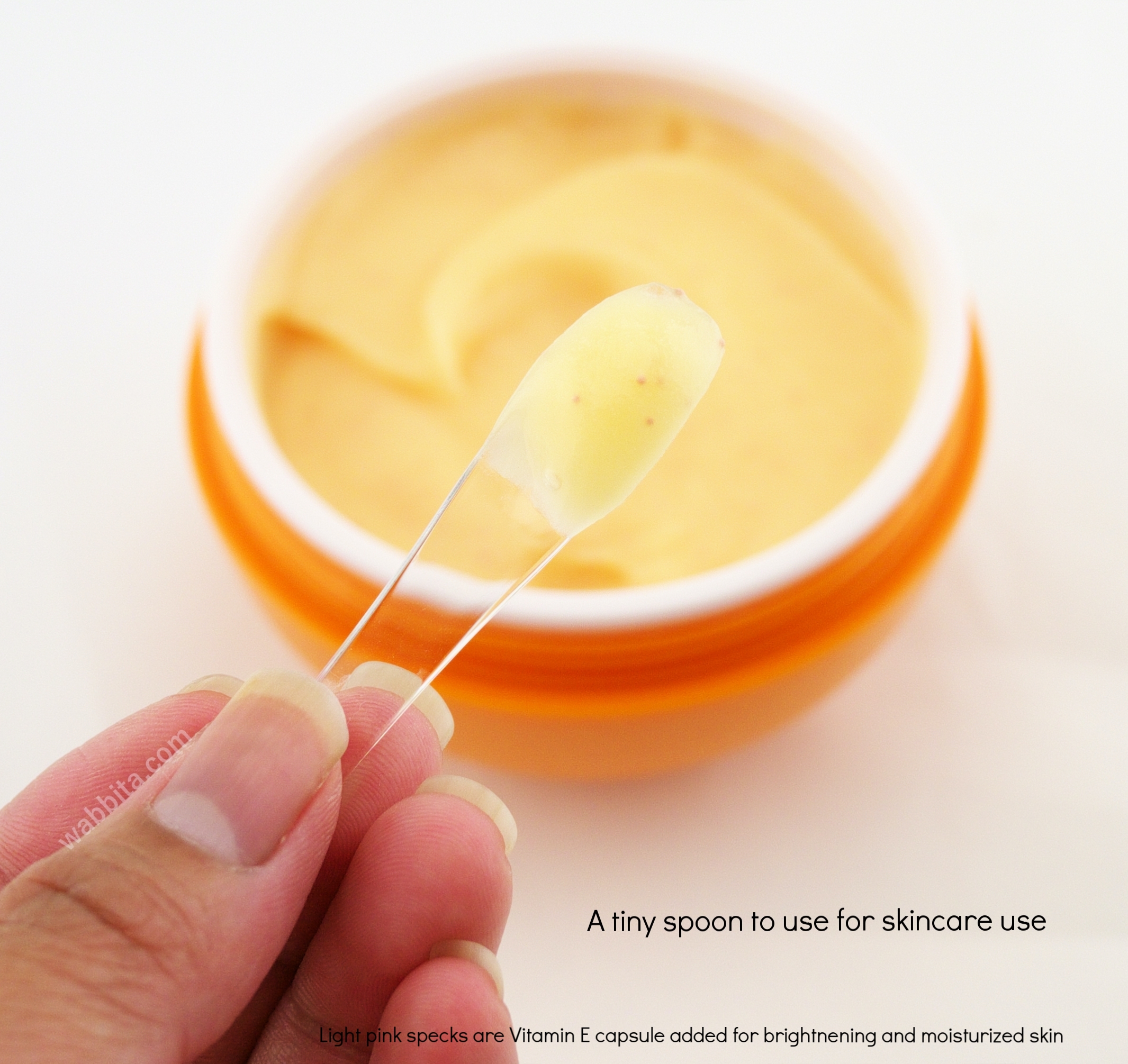 Like I said earlier, I received this new released product from The Yeon. I was actually one of the 10 people who won from their giveaway couple weeks ago.The packaging is like a (Hallabong ) mandarin orange and the amount inside is quiet a lot (100ml) I am really interested to try this one because I don't normally use a peeling gel and Im glad I got try this product.
Once you open the container, you can smell the wonderful scent of citrus and if you know me I've everything that smells like citrus. I just love the fresh scent of lemon, lime orange or anything citrus. I also loved when a skincare have a mini scooper or mini spoon to use instead of dipping your fingers. I know its like one more step to do but I like it that way so you don't contaminate the whole bottle or container of skincare. This product is easy to use just put a desire amount to your dry skin and gently massage your skin for a minute or two. You'll see a these white stuffs build up on the surface on your skin and just washed it with lukewarm water remove them.
I don't see an instant brightening effect on my skin, but definitely it made my skin feels smoother, cleaner and soft after one use.My skin feel moisturized as well. exfoliates well I can feel that the dirt and oil on my skin is gone.It is also very gentle on the skin and it didn't have that tight or dry feeling after use.It didn't give me any reactions with my sensitive which is good. It means I can continue to use it. If you are into peeling gels, definitely give this one a try and let me know How you like it.
A little summary of The Yeon VITA 7 AHA/BHA ENERGY PEELING GEL
feels soothing on the skin

smell really good (I love the citrus scent of it)

exfoliate well on the skin

my skin feels softer

my skin feels cleaner definitely removed dirt and oil on the skin

gentle on the skin, It didn't broke me out even with my sensitive skin

Price range is alright in opinion

Definitely give it a try if you are into peeling gel

More about The Yeon VITA 7 AHA/BHA ENERGY PEELING GEL

Transform with 7 multi-vitamins for soft and brighter skin

VITAMIN A- Elasticity

VITAMIN C- Vitalizing

VITAMIN E- Moisturizing

VITAMIN F- Brightening

VITAMIN H- Soothing

VITAMIN B3- Whitening

VITAMIN B5- Smoothing

AHA/BHA - Dissolves waste on the skin surface and in the pores

NATURAL CELLULOSE - Absorbs and regulates keratin/waste on the skin surface

SPECIAL 3 COMPLEX - Multi-vitamin/Flower Phyto Complex for soft dewy skin

HALLABONG (Sweet Mandarin Orange) Has 1.5 times the amount of Vitamin C than orange. Helps protect your skin from Carotenoid rich filled ingredients for clear smooth skin

FREE OF : PARABEN,PHONOXYETHANOL,GLUTEN, MINERAL OIL, TALC,BENZOPHENONE, PEG





SPECIAL RECIPE FOR BRIGHT SKIN FLOWER COMPLEX

7 FLOWERS THAT ARE GOOD FOR MOISTURIZING/TONE UP RECIPE

Lotus Flower Extract, Camellia Flower Extract, Plum Tree Flower Extract, European Pear Flower Extract, Honeysuckle Flower Extract, Safflower Extract, Scholar Tree Flower Extract

SPECIAL RECIPE FOR SKIN CALMING AND PROTECTION PHYTO COMPLEX

4 PLANTS THAT ASSISTS WITH CALMING AND PROTECTING RECIPE

Centella Asiatica Extract, Chamomile Extract, Licorice Root Extract, Soybean Extract



Hope you guys enjoy reading this blog of mine and find it helpful. Do you guys have any favorite peeling gel? Please let me know and comment below
Thank you
Wabbita
Please follow me on Social Media